The lush greenery, the earthy elements and the soft hues of this vintage wedding make this a real-life fairy tale, one we just can't get enough of.
Creating a Garden-Like Wedding, Indoors
Chelsea, a Pennsylvania native, and Jared, a southern guy from Louisiana had the most beautiful, romantic, and absolutely breathtaking wedding. The attention to detail and the use of emerald green and ivory throughout the wedding day design is nothing short of a magical garden party, one that can rival the royals.
We love how the bride and groom, and their amazing wedding planning team, Absolute Events, brought all the elements of an outdoor garden party indoors. With the use of string lights and hanging floral arrangements in the reception area, they created an intimate setting for their guests to enjoy.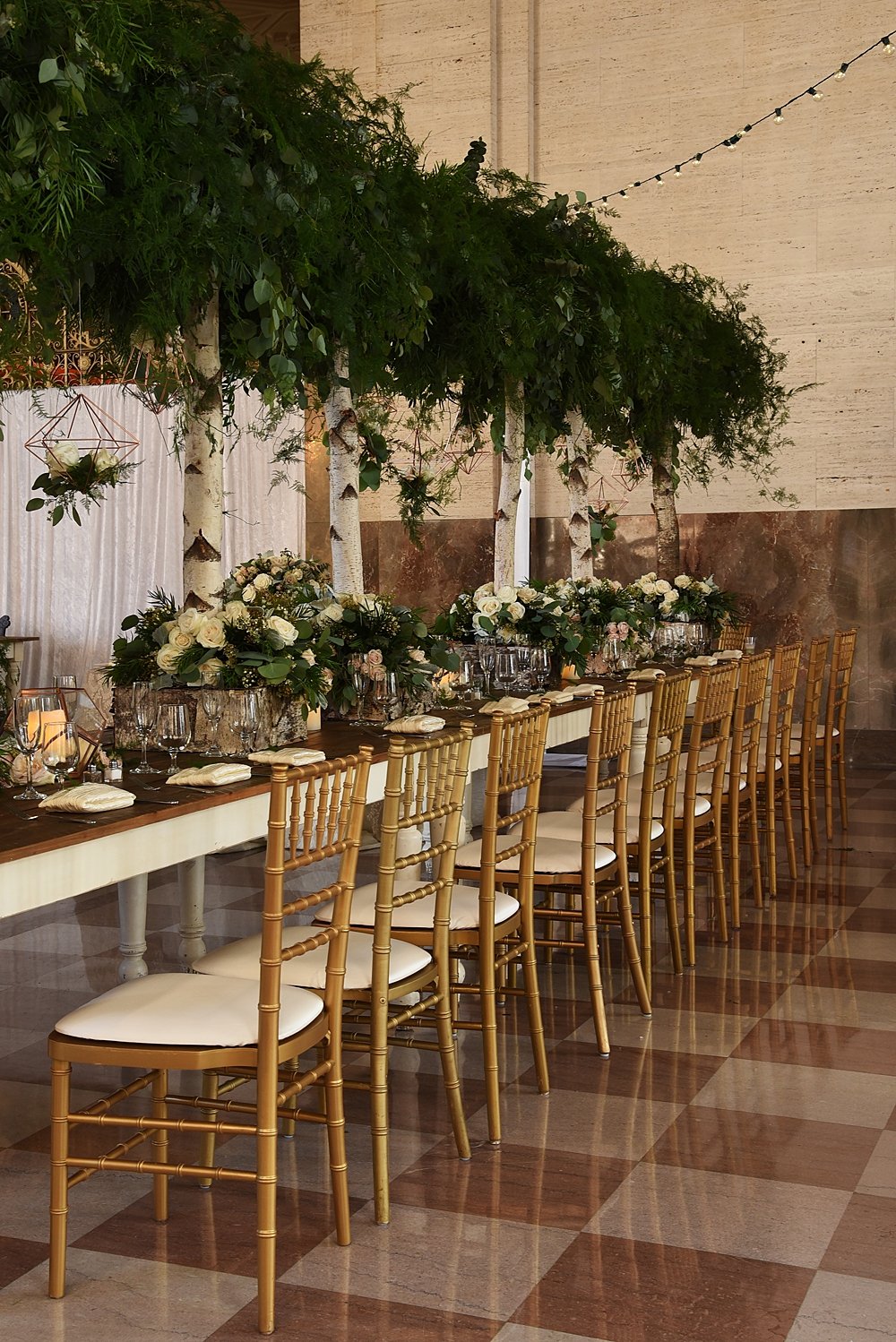 Although they kept to a simple and vintage-like garden party, we love the way they infused modern elements into the design. Incorporating fun geometric shapes in some of the tablescapes designs was the perfect touch.
When we asked the couple how they came up with the design and inspiration for this vintage wedding, they told us they basically chose their decor and vendors based on what they liked. We may be a bit biased, because how can you go wrong in this venue, but we think they've got great taste!

About The Couple
One of our favorite parts of working with our couples is getting to know their love story. Just like their wedding day, we fell in love with how they met, it's really adorable, especially when told from Chelsea's view:

"Jared and I met in dental school in Florida. Actually, we met in a bar and he kissed my hand and I thought he was weird. Being from Pennsylvania his Louisiana charm was foreign to me. But we were friends at first, and as soon as we started spending more time together we knew."

We also really love following up with our couples and finding out what their favorite part of their wedding day was. Chelsea said that was a hard question to answer, but she was able to give us a few highlights!

"My favorite moment of our wedding day was his reaction to me walking down the aisle. Everyone was pushing me to do a first look but I am sooo glad I did not! I imagine that face every day still. His favorite moment: besides "getting married" was every moment on the dance floor. There were some original dances moves on that floor!"

When we asked them the ONE memory that their guests still talk about, they instantly said the decor and how beautiful everything was.
Umm, yeah, we can see why!
A few other favorite moments their guests still rave about include the video by Matthew Bergbauer, it's said to be something from a Hollywood trailer.
Guests still talk about the infamous walk down the aisle together because they played the Game of Thrones theme song and that was a major hit.
The food, the food, the food! Everything Bill Hansen Catering fixed for the event was delectable. And Rock with U, everyone had a blast dancing the entire time!
That's definitely more than one thing guests are still talking about, but who's counting?!
We also asked Chelsea and Jared what's one piece of advice you'd give to someone planning their big day?

They provided some wise words that we totally agree with:
"Some advice would be most definitely have a planner. Jamie and the Absolute Events team were saviors making sure everything was perfect. But also, don't stress out on your day. Your family and friends will help to make sure nothing goes wrong so just enjoy the moment. It's all about celebrating you two and your love."


The Wedding Vendors
Planner: Jamie Lipman, The Absolute Event
Photographer: Jonathan Scott, JSP Studio
Catering: Bill Hansen Catering
Floral Design: Xquisite events
Cake: Earth & Sugar
Band & Music: Rock with U
Video: Matthew Bergbauer